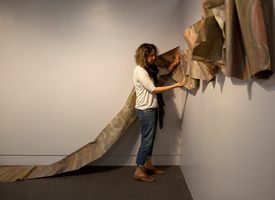 Photo: Katie Lobel

Laura Moriarty makes process-driven sculptural paintings and works on paper whose forms, colors, textures and patterns result from the same processes that shape and reshape the earth: heating and cooling, erosion, subduction, friction, enfolding, weathering, slippage.

Born in Beacon, New York, she received training through an apprenticeship in hand papermaking (1986-1990), and is otherwise self-taught. Since 1992, Laura's work has been presented in numerous exhibitions, both nationally and internationally. Recent solo exhibitions include "Moving Mountains" at Oklahoma State University's Gardiner Gallery, "Intimate Monuments" at OK Harris Works of Art in New York City, and "Scratched Record" at the Handwerker Gallery at Ithaca College. Recent group exhibitions include "GeoMagic: Art, Science and the Zuhl Collection" at New Mexico State University, Los Cruces; "Empire of Dirt" at the Paul Robeson Galleries at Rutgers University; "Translating Earth, Transforming Sea" at the Walton Arts Center in Fayetteville, Arkansas; and "Field Notes: Revisions" at the Jyväskylä Art Museum in Finland. Moriarty's work is held in the permanent collections of The Philip and Muriel Museum of Art at Ursinus College; The New York Public Library; the Progressive Art Collection, Cleveland, Ohio; The Royal Museum of Art, Antwerp, Belgium; and The Robert B. Haas Family Arts Library at Yale University.

Laura's honors include an Invididual Support Grant from the Adolph & Esther Gottlieb Foundation (2016), a residency at the Baer Art Center in North Iceland (2016), a Vermont Studio Center Fellowship (2015), two Pollock-Krasner Foundation Grants (2007, 1997), a Frans Masereel Center Residency, Belgium (2004, 2000), and Ucross Foundation Residency (1996). Her work is featured in several books and publications, including 'Making the Geologic Now: Responses to Material Conditions of Contemporary Life', edited by Elizabeth Ellsworth and Jamie Kruse, published by Punctum Books (2013), and has been reviewed in The Philadelphia Enquirer, The New York Times, Beautiful Decay Magazine, Artillery Magazine, New Art Examiner and The Plain Dealer, among others. She is the author of an artist's book, 'Table of Contents', self-published in 2012.

For a downloadable resume, please click on the tiny PDF icon at the top of this page.